Not for you, sorry. It's me who got the free JVC video cam from the company Christmas raffle.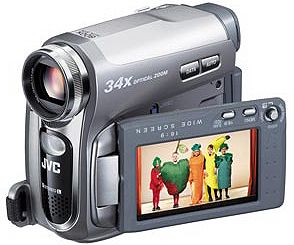 The versatile
JVC GRD796
includes a powerful 34x optical zoom and convenient Dual Recording capability for shooting still images during video recording. A large 2.7-inch wide screen LCD monitor aids the recording process, especially when shooting in 16:9 wide mode. The GRD796 comes with two data batteries for twice the recording time.
34x Optical Zoom/800x Digital Zoom
MiniDV Format, 1/6-Inch 680k Pixel CCD
2.7-Inch Wide Clear LCD Monitor
USB Interface, DV Input/Output (IEEE 1394 Compliant), AV Input/Output, SD Memory Card Slot
16:9 Wide Mode (High Quality), Dual Recording Capability
Auto Illumination Light
Digital Still Function (640 x 480 Pixels), HG Digital Still (Progressive Shutter)
3-Dimension Noise Reduction (3D NR)
Color Viewfinder
Stick Control
Power-Linked Operation
Data Battery (x2)
Auto Macro, Auto Iris
F Stop: F2.0 - 4.7, Shutter Speed: 1/60 - 1/4000
Full Range AF/Manual Focus
Full Auto/Manual White Balance
Super High-Band Processor
Multi-Languages On-Screen Display (7 Languages)
Data Button
AUTO Mode
Power-Linked Operation
Program AE/Digital Effects
Scene Transition (Wipes/Fades)
Dimensions: 2.44" W x 3.75" H x 4.50" D
Weight: 0.91 lbs.
This is great! I'm so happy! There's only one catch: I just don't have any idea what to do with it